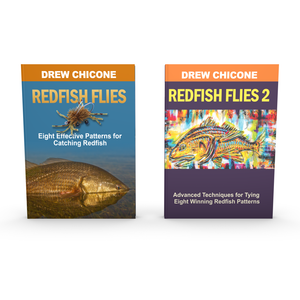 Buy  Redfish Flies 1 & 2 together and save 10%!

The eBook version of the Redfish Flies Combo is available for immediate download here.

From the Keys to the Carolinas and every grass flat and oyster bar in between, together, Redfish Flies 1 & 2 provides you with the know-how to create productive Redfish patterns for any estuary.

Together they provide 352 pages, illustrated with ultra-hi-resolution images, insights, and interviews from saltwater fly tiers, guides, and gurus.

This selection of flies will ensure you are ready for just about anything the magenta monsters can throw at you. There's no guesswork here; This two-book bundle contains detailed step-by-step instructions for tying 16 proven patterns essential for catching Redfish in almost any scenario!

The Kung Fu Blue Crab
Ratliff's Fiddle Sticks Crab
Andrews Pine Island Ice Tea
Stroman's Budagrassy Shrimp
Kincaid's Rump Shaker
Costadura's Grass Monkey
Laminack's Gulf Shrimp
Reed's Batman
Flip Pallot's Bushwood
Cave's Wobbler"
Epoxy Spoon Flies
Mylar Spoon Flies
Bailey's Claw Seaducer
Bailey's No Name Shrimp
Chicone's Swamp Cabbage Shrimp,
Chicone's Modified Tampa Bay Redfish Fly
For more info about each ebook, check them out here:
Redfish Flies
Redfish Flies 2
Redfish fly 1&2
Awesome! Easy to follow even for a beginner like myself and effective. Already caught fish with the patters in these books. Thanks Drew you're the best bro!
Redfish Flies Combo (Paperback)