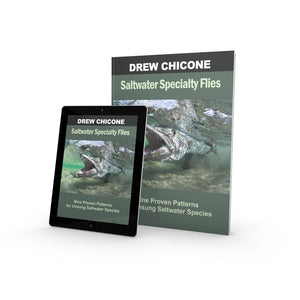 Whether you start with a fly rod or a push-button reel and red and white bobber, I believe all fishermen continued their journey as anglers because it's fun! As we get more proficient at catching fish, we explore different and often times more challenging techniques and our priorities change. For some the goal is to catch lots of fish, others gravitate toward big fish or a specific type of fish. For me, it's all of the above… I just like catching fish, and thankfully even though I make a living in the fishing industry, fishing has still remained one of my favorite activities.

After years on the water, I can honestly say that not a trip goes by that I don't learn something new. The most important lessons are often common sense, though. First, you can't change the weather, second, you can buy flies, but you can't buy the cast, and third, as the old saying goes … if you want to have a productive day fishing, "you don't leave fish to find fish." And, last but not least, as any good guide knows, you need to take advantage of what the ocean offers at that moment in time. It's easy to get laser-focused on one angling goal and end up zeroing out for the day. Too often we pass on an opportunity to just have fun and catch fish. High hopes and unrealistic expectations for a specific size fish or one species can often be blinders to an exciting opportunity right underneath your nose. I can't count the number of times I wished I would have bought an additional rod or a few specialty flies for those species that aren't the primary target. Being prepared for numerous species can oftentimes save what could have been a slow or disappointing day on the water.

Some of my most memorable trips have been those where we veered off the intended target species and just had fun catching! This is extremely important to remember when fishing with kids or inexperienced fly anglers too.

When packing for your next trip, be sure to bring an extra rod and throw a hand full of these specialized patterns in your box as well. The selection of flies outlined in this book has proven effective in countless estuaries around the world. Tying and stocking your box with this comprehensive assortment will ensure you are covered for just about anything you may encounter on the water … and the insight provided in the interviews of the contributing guides and gurus will help you understand what factors need to be considered for choosing which fly to tie on, or creating and fishing your own saltwater pattern.

Saltwater Specialty Flies contains detailed step-by-step instructions for tying Flip & Bailey's Bonefish Bunny, Pretorious's Semper Squid, Zanetti's Genesis Fly as well as Chicone's Overachiever, Mayhem Mole Crab, Nightmare Needlefish, Murder Chicken, Chocolate Contraband and Cocktail Crab pattern. These nine winning patterns will help you target barracuda, GT, jack crevalle, mutton snapper, pompano, seatrout, sheepshead, and triggerfish.
This is a 203-page eBook, illustrated with ultra-hi resolution images.

Saltwater Specialty Flies
Very innovative patterns I can't wait to try on fish!