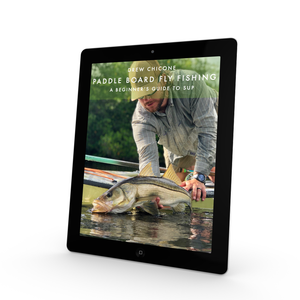 As a fly designer and avid fly angler, I spend an extensive amount of time on the water analyzing fish, their diet and feeding behaviors so I can create highly effective flies. Testing my flies while remaining undetected is paramount. One of my favorite ways to get out there and present my feathery creations is on my SUP.
After 5 years of testing and tweaking my flies from a paddle board, (which equates to over 1,000 hours of SUP fly fishing) I have become comfortable and successful fishing from this platform. I have also fine tuned how I like to rig my SUP and fish from it. I like to have the minimal amount of gear on the board as possible … and what I bring, are the bare essentials to be comfortable, safe, and effective fishing.
In an effort to share what I have learned, and fast track your SUP fly fishing success, I have distilled my experiences, trials and errors, down into a detailed instructional guide.
In this 25 page eBook I discuss:
Why SUPs are so effective for fly fishing
Pro's and con's between models
How I set up my board
Fly fishing best practices
Other key gear and essentials
The detailed instructions and clear photos in this book will ensure you have the know how needed to set up and get started fishing off your own SUP as efficiently as possible on day 1.
Great help getting me to the next level of SUP fishing
I've been Flyfishing off my BOTE HD for a year or so now. This book res helped me dial in on a few things that I was missing. It's made my fishing much more organized
never able to download it
I was never able to download and the whole process felt like a scam to get me into the sales website.
Great Resource with Room for More
I hope Drew Chicone is going to expand on this book. It's a great starter resource, but I think there's a lot more to be discovered in this world of SUP fly fishing.
Great Book
I own a Bote rackham and thought this book was very helpful in terms of giving little tips and tricks to make fly fishing off a paddleboard a lot easier. Thanks Drew!
Great book!
Great book that covers the basics. It covers all you need to get started SUP fishing! Clear directions and easy read.
New good ideas!
This ebook really gave me new ideas for scandinavian pike fishing. I have been planning how to modify my isup for flyfishing and cant wait for the season to try how it works. Maybe I have to do some changes for the gear tough 😀
I have now been using float tube but the problem is that its not really good if you need to change a spot with a bit longer distance. And it is cold to sit there when the pike season is on.
So im really happy that I read this book and thankful of your tips and experience.
BR
Ville
Excellent Resource
This book is exactly what I was looking for as it get's into the nitty gritty details of what I should buy and how I should set up my paddleboard for fly fishing. Thank you Drew, this was well worth the time and money!
Well written, succinct, informative intro to SUP fly fishing
Concise overview of SUP types, how to organize your SUP for fishing, techniques, and recommended supplemental equipment to make your SUP ready for fishing from day one.
Great Tips
I've been fly fishing from a paddle board for a couple years, and these are some great tips. Highly recommended if you want to try fishing from a paddle board.
I really enjoyed this e-book it was very informative and gave me a better understanding on how to setup a sup for fishing.