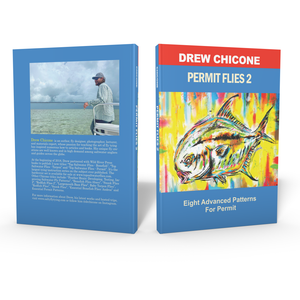 Permit Flies 2 - Eight Advanced Patterns for Permit
eBook Available Here for Immediate Download
Albert Einstein once said, the definition of "Insanity" is doing the same thing over and over again and expecting different results. By that definition; if attempting to catch a permit on the fly isn't lunacy, it is most certainly a kindred spirit. As you become earnest about checking permit off the "fish to catch on the fly before I die" list, you will soon discover, like I did, that the countless hours perusing this baffling species can start to feel more like business than pleasure. Conditions are typically very windy, and laying eyes on these phantoms with fins takes some intense conditioning. The lion's share of your day is spent on the bow of the boat poised, fly in hand, ready and waiting. If presented with one, the opportunity to cast is often momentary at best and can be easily squandered if even the slightest particular is overlooked. My crusade for permit has been obsessively driven and oftentimes maddening, but I have gathered invaluable knowledge along the way. Spending time with some of the planets primo permit guides in extraordinary locations has been indeed a gift as well as an in-depth education, and I am more than happy to pass along the hard lessons learned. When choosing patterns to tie for permit, there is a dizzying array of choices out there. The first category of fly that comes to mind for most are crab patterns, but permit are opportunistic feeders, and their diet is very diverse. When planning for your next trip, be sure to tie up a variety of shrimp and baby lobster patterns as well. That being said, I did my best to select an assortment of proven classic and contemporary patterns for this book that provided a wide array of menu options, as well as teach you some fun and new tying techniques for creating your own unique creatures!
The contemporary permit patterns included in this book have a track record of success in a number of different conditions and fishing scenarios. Permit Flies 2contains detailed step-by-step instructions for tying "The Reloaded Raghead Crab." "Globster," "Gerbec's Alphlexo Crab," "Dorsy's Kwan," "Skok's Strong Arm Merkin," as well as "Chicone's McFly Foam Fiddler," "Gulf Coast Drifter," and "Spawning Squimp." Eight proven patterns for catching permit. This is a 199-page paperback, illustrated with ultra-hi resolution images.
Permit Flies 2
Absolutely excellent! Very well done and thought out great detail step by step. This book and the way Drew writes it makes you feel as if you are tying beside him. There are great tips intertwined throughout the steps in this book which only adds to the depth of knowledge. The fly pattern selection and intelligence behind them is second to none and without a doubt catch fish!
Thank you Drew for all innovation and sharing.
Best -
Chris Ryan
Snook flies 1&2
Great instruction and insight to snook.
Well worth the price
Excellent tutorial on eight fantastic but somewhat technical Permit flies known to catch Bones too. The "Gobster" is spectacular and should whack'em. Can't wait to try them in Belize next week. Stay tuned for a follow up report.
Bob .S. "One Last Cast"
Permit Flies two
Excellent book, as all of your books. I've already tied two flies from it. I enjoy reading the interview of the person who designed the fly. Keep up the good work. Can't wait for the next book.