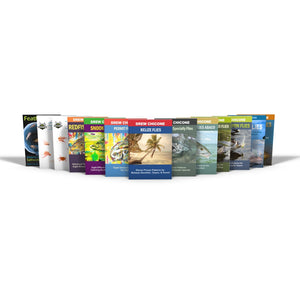 Get a
 

Signed Copy

 

of All My Saltwater Fly Tying Books & Save $ The eBook version of this combo deal is available here for immediate download.

What's Included:
All my saltwater fly tying books are designed with the tyer in mind not how "Cheep" can we get this done!

A frustration of mine is trying to learn a new pattern or tying technique without clear illustrations or instructions. I subscribe to all kinds of fly tying magazines and have quite a few fly tying books, and I can't tell you how many times I wish there was one more photo or I could have zoomed in on a picture. I think that most of us would appreciate more than 5 or 6 1-inch photos to thoroughly explain how to get from point A to point Z. That is one of the main reasons for the ultra close up shots and hi res photography, and excessive number of photos used to illuminate the ideas and techniques found in my Saltwater Fly Tying Books and eBooks.

My passion is developing and tying saltwater flies, and I help fly tiers of any skill level learn how to develop and improve their own fly patterns. Not only do they learn to tie better flies, but best of all they catch more fish. All my printed books will come to you signed and I am more than happy to inscribe them for you as well if you wish.